A big hurdle facing some research scientists is the time it takes to analyse huge amounts of image data – sometimes thousands need to be analysed per experiment! Artificial Intelligence (AI) computer programmes are being developed to analyse images to save time.
Erika and Jess have been working with a team at Cellari to develop an AI that recognises cell data at the Centre for Stem Cells & Regenerative Medicine (CSCRM). We now need lots of people to teach the programme to recognise certain cells in tissue samples. This is where you come in.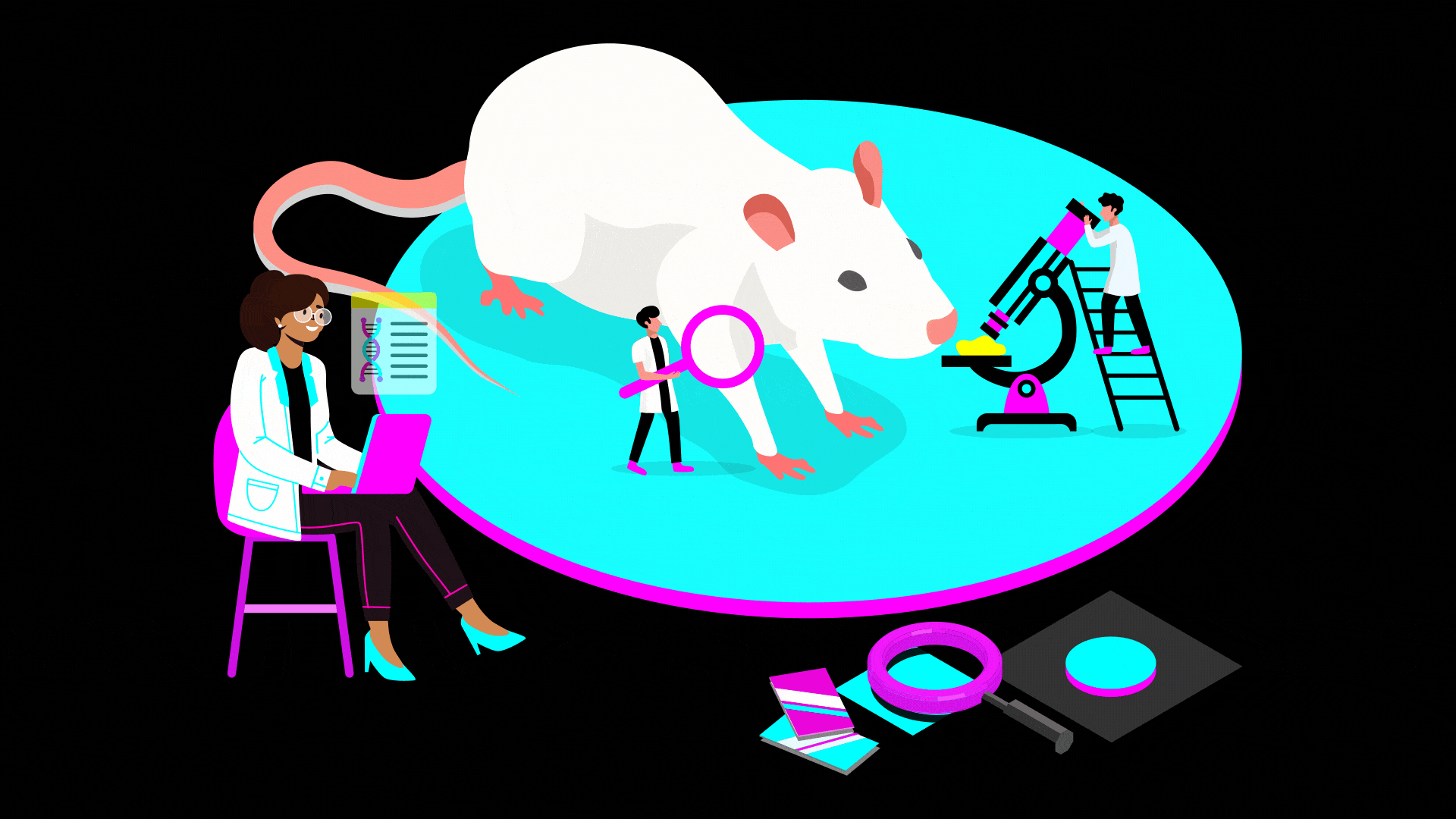 Dr Priyanka Bhosale is a CSCRM researcher studying oral cancer, and whether a specific gene affects how tumours develop. She is removing this gene in mice to see whether this affects the speed of tumour development, or if it alters tumour structure.
To do this she needs to analyse images of developing tumours. It can be tricky to identify these tumour regions by eye, so we need your help to train a computer programme to analyse the data. The more of you that measure these images by hand, the more accurately a computer will recognise what a tumour area is!
Below is a breakdown of the structure of a cross section of the tongue. The top surface layer within your mouth is the squamous epithelium. This provides a barrier of protection from the outside world and prevents infection from foreign bodies.
Priyanka's research focuses on the squamous epithelium and the basement membrane of the epithelium (the wavey looking structure), and how tumours develop in this area.
We've set up 4 sets of research images for you to analyse, each set increasing in difficulty.
​
Put your histology skills to the test for a chance to win a prize, and in the process help us develop a new AI tool to analyse data as well (or better!) than a human can in a fraction of the time!
In this first set of images we want you to identify the normal basal squamous epithelial layer which you can see as a bright undulating wave.
This distinctive feature has been labelled with a fluorescent tag that recognises a protein called Keratin 14, which is only present in the basal cells.
In this group of images we want you to identify clusters of tumour cells that are growing from the epithelium. The same squamous cells that were fluorescently labelled for Keratin 14 in the first set of images now form densely packed islands rather than an undulating wave. This is because the cells multiply abnormally due to their tumour-induced behaviour.
These images are of the normal squamous epithelial layer again, but this time stained with the H&E method (Haemotoxylin and Eosin). This method captures the overall architecture of a tissue, staining the nuclei of cells in purple and the cytoplasm in pink. In these images we want you to identify the undulating structure of the basal squamous epithelial layer.
This is the most difficult set of images of images to analyse! They show tumours growing out from the epithelium, but this time stained with the H&E method. We want you to identify the densely packed tumour cells which are stained darker purple (due to the excessive cell multiplication) and look like small islands.
Now you know what the images are, why don't you have a go at measuring them!
Follow the link below and watch the instructional video to see how to use the tool.
Every person that manages to measure all the cell images by Monday 12th July 2021 will be entered into a prize draw where 10 winners will be chosen at random to come to Guy's Hospital for a guided tour of our research facility (when social distancing allows of course!).
To enter, you must Register on the platform and fill out the feedback form at the end of the activity. You don't have to do all the images at once, if you are registered you can come back to complete more images later! See you on the leader board!
About Project Team
Dr Priyanka is a Postdoctoral Research Associate at the Centre for Stem Cells & Regenerative Medicine (CSCRM). She is a cancer researcher and her current work focus is to study the effect of gene mutations on how tumours develop and behave.
Jess is the Public Engagement Officer at the Centre for Stem Cells & Regenerative Medicine and Project Lead for the Centres involvement in the Royal Society Summer Exhibition 2021. Originally trained as a Lab Technician, Jess fell in love with science communication and bridging the gap between science and the public.
Whilst working at the CSCRM has facilitated the engagement of over 100,000 members of the public with research in a wide variety of methods, including school visits, interactive workshops, large scale public events, public facing podcasts and science-art exhibitions to name a few. Jess is very excited to see how participants respond to the interactive activities that have been created by the team, and hopes that they spark passion and inspiration for the field of stem cell research and beyond.
Erika helps manage the Stem Cell Hotel, a collaborative phenotyping space within the Centre for Stem Cells & Regenerative Medicine (CSCRM), configured to support and enable scientists from King's College London, other universities and industry.
Erika is an experienced project and laboratory manager in both industry and academic settings. She has deep expertise in assay development, high-throughput screening, high content imaging and bioinformatic analysis of 'big data.' Erika has extensive molecular and cellular biology experience, including time in drug discovery developing, miniaturizing and validating assays for ultra-high-throughput screening, and in establishing methods for the integration of genotype/phenotype interactions using high content imaging.
Erika hopes that the citizen science activity will engage the participants and 'acCELLErate' an interest in the field of stem cell biology.